Canva vs. Figma – Which Graphic Design Software is Better for a Marketing Specialist
Every marketer, particularly a social media specialist, should have basic graphic design skills. Canva and Figma are some of the most useful graphic tools for marketers. Which one of them is better? Let's compare Figma and Canva from a marketing specialist's point of view.
Prons and cons of Canva
Great tool for beginners
Lots of templates, photos, icons, and other content make it really simple to create various graphics from social media posts, and posters to infographics. Especially if you haven't discovered your design instincts yet, using Canva templates should ensure that you follow design trends.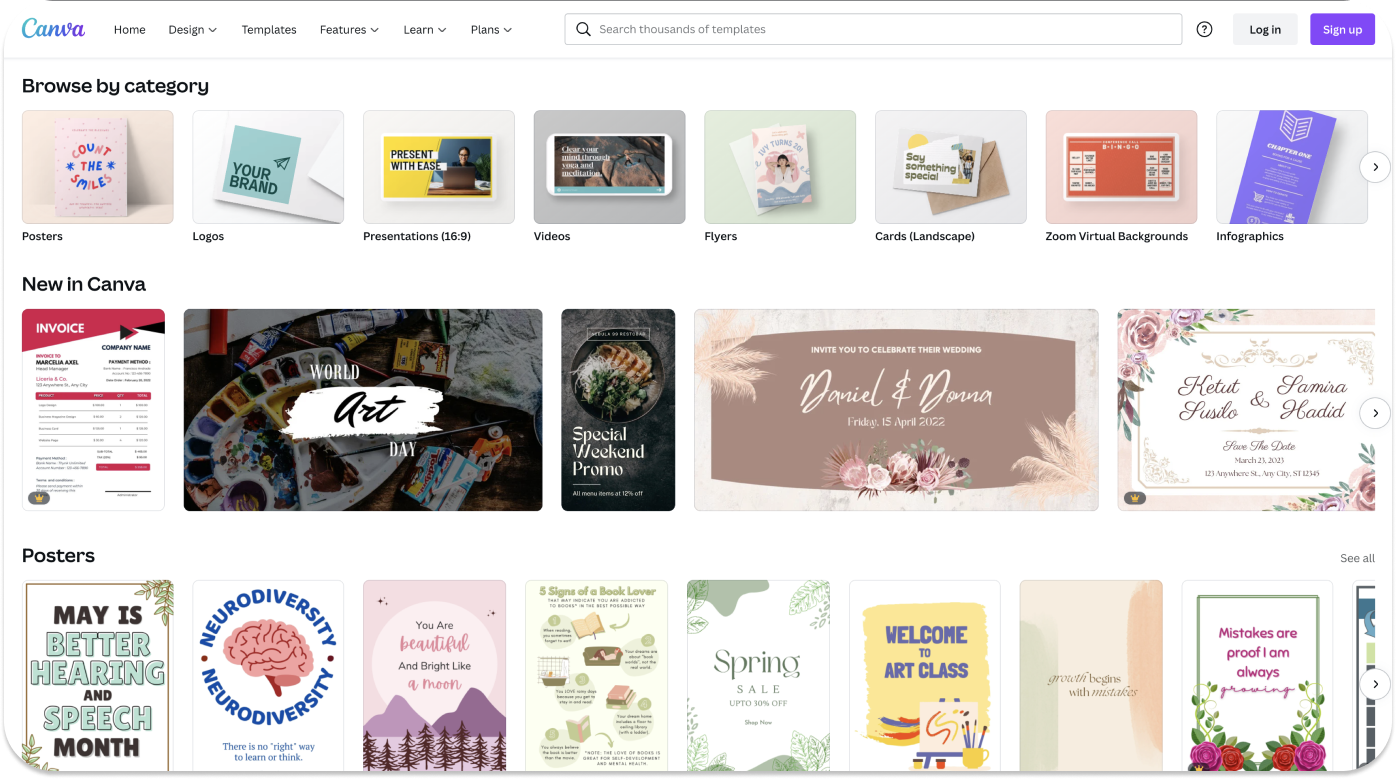 Source: Canva.com
Canva is useful for social media ninjas
Social media templates (with recommended post sizes) are a great help for every social media specialist. Obviously don't take them for granted. These sizes change too often so it is better to double-check them at different sources and even publish your design on a testing account. 😉 Social media admins know the pain when the size should be fine but after publishing the graphic, it doesn't look as we expected. 😉
Easy to design basic printouts
Canva can also be helpful if you create some printouts. For example, it is quite easy to design an invitation based on Canva templates and then you can export it as a high-quality pdf file which will be working perfectly with the printer house. Also, you can choose an option with bleeds if your printing house expects it. Probably you won't design a billboard with Canva but a very easy flyer or invitation may be possible. And that's fine, no one should expect marketers to design billboards. 😉
You can use Canva for free
Canva offers free templates, photos, icons, and more. However, it is fair to say, that if you want to have top-quality content, you should spend some money on the right templates. The best of them aren't free.
Open for team collaboration
You can team up with other Canva users from your team and work on the design in a common online folder. Super useful option and essential in these digital times.
Let's take a moment here to price people who worked on graphic designs before everything was stored in the cloud. Oh, you probably don't know the pain of endless email exchanges with a designer including receiving the 163849 versions of a graphic design after sending 163848 comments. Now, you can work online on the project simultaneously – simply collaborate, not write stupid emails. ;) So sorry for this dinosaur digression. I just used to spend countless hours emailing graphic designers (marketing trauma).
Company branding one click away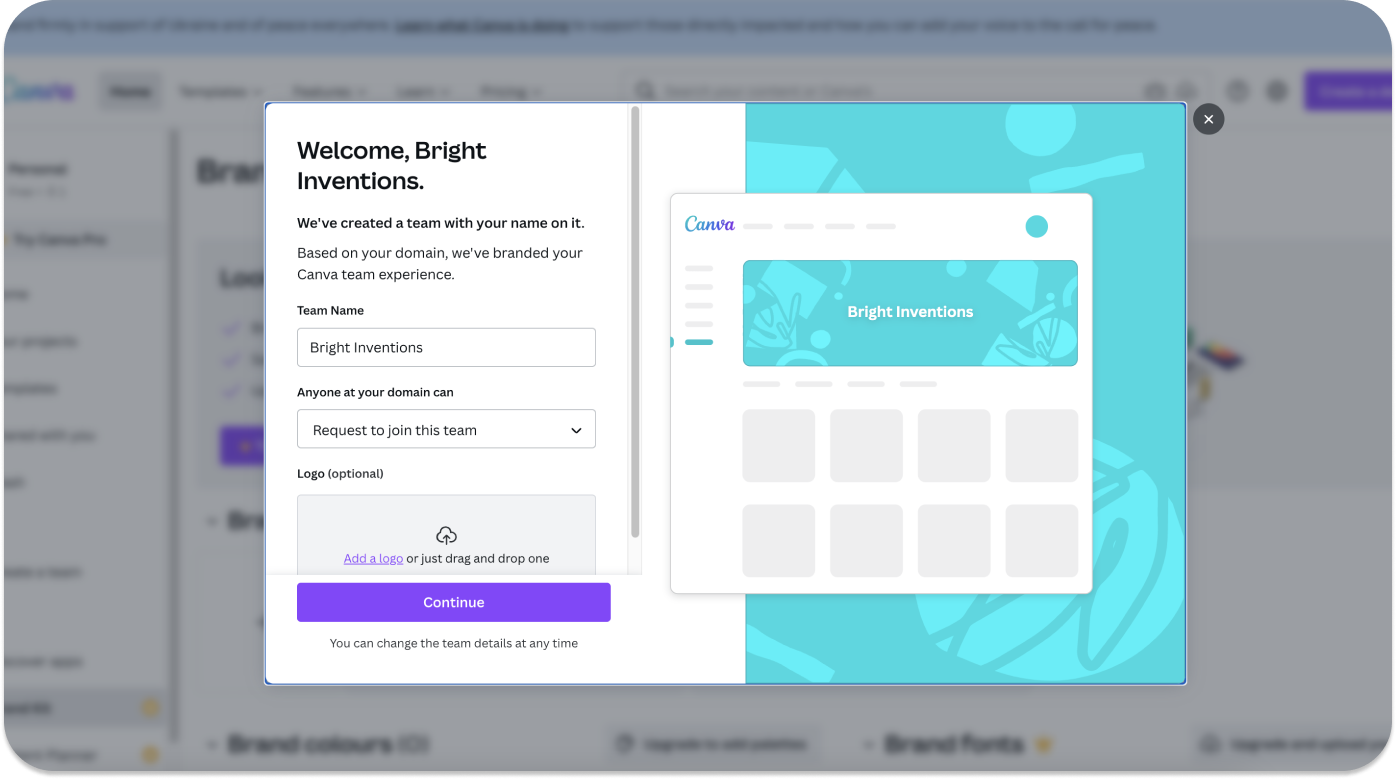 Source: Canva.com
I enjoy the Brand kit feature on Canva. It is not a free option, yet pretty useful during day-to-day work. You can provide all basic brand identity info to get easy access to the company logos, fonts, color codes, etc. No more looking for a high-quality file with a logo. No more double-checking a brand hex code color. Everything is in one place, available for the whole team so no one will use the wrong color or logo by mistake.
Prons and cons of Figma
Figma is better for more advanced marketers
Figma has been built mostly for product designers, UX & UI designers, etc. So if you are at the beginning of your design path, Figma might be scary. It won't provide you with templates, default icons, photos, and graphics. So if you don't feel like working on a design from scratch, Figma is not a tool for you.
More features with a free plan
This might be totally subjective but for me, you don't feel limited using a free version of Figma on a small scale. Naturally, there are limitations like the number of pages you can create. Yet, you can easily start with the free Figma version and you will discover the power of the tool and quickly reconsider some upgrade version. 😉
By the way, the pricing plans of Figma and Canva are pretty similar, so there is not so much to compare in this matter.
Holy layers!
Oh, how I love layers! Thanks to them you can go to another level in your designs. It is almost like using Photoshop, but – let's be honest – easier. 😀 Layers give you more options to play with your graphic, slogans, and backgrounds.
Great collaboration options
Like Canva, Figma is easy to co-create projects together within the team. What's more to say? It is a must-have feature these days.
Lots of plugins. Lots!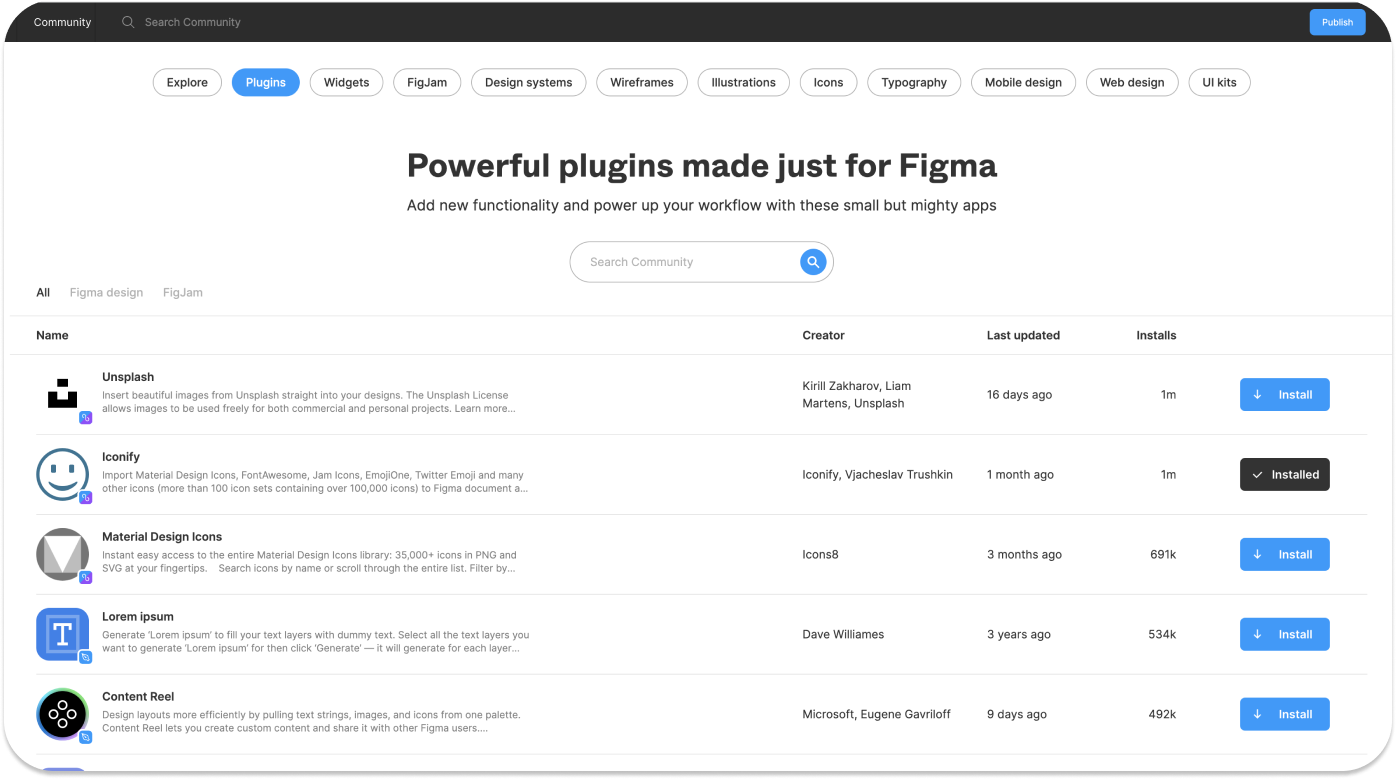 Source: Figma.com
The day I discovered Figma pluggings, should become my private/official holiday. I appreciate the whole community that creates lots of useful, and often free, plugins that simply make my daily work even simpler.
It's like you need to do something, and you have this voice in your head saying "There must be an app for this!". I have it with Figma – whenever I need to do something that goes beyond the Figma basic interface I think – "There must be a plugin for that." And guess what. In most cases there is!
Let's note that some of my favorite plugins are:
To other plugin junkies out there – please recommend other useful plugins in the comments. I will dive deep into them. So deep.
Finally, Canva and Figma – what is better for a marketing specialist?

Okay, so I don't have the ultimate solution here. 😀 The way I see that and recommend it for every digital marketing newbie is to start with Canva where you will easily make some basic graphics. Then if you want to go to another level, you will find switching to Figma really convenient, simple, and rewarding.
However, if graphic design is only a small portion of your daily duties and you want to create simple, basic designs, then stick with Canva and you won't regret it.
Previous