Day 1825. Five Bright Years at One Place
For some people it might be surprising, especially considering current trends to change employers every two or three years, but I am just having my fifth anniversary at Bright Inventions. Five years ago I chose to start my professional journey here and I do not regret my decision since then. 
One girl and two guys 
I know how it sounds but that is how it all started. I saw the job offer on one of local job boards and thought it might be a perfect match. It just clicked. On the interview there were two of them, Michał and Daniel, the co-founders of Bright Inventions - two young, positive, motivated and experienced developers who had set up a company to create a place where people can do what they like and get satisfaction from that.
I made their mission mine. I knew it was a chance to build up something priceless almost from scratch. I also knew there were strong foundations to do that.
Michał and Daniel were studying together at Gdańsk University of Technology, then there were working in one of the international IT provider where they realised that job in corporate world was not something they had been searching for. On 15th March 2012 Bright Inventions was created. I liked the story behind that. It is the story of true friendship I guess.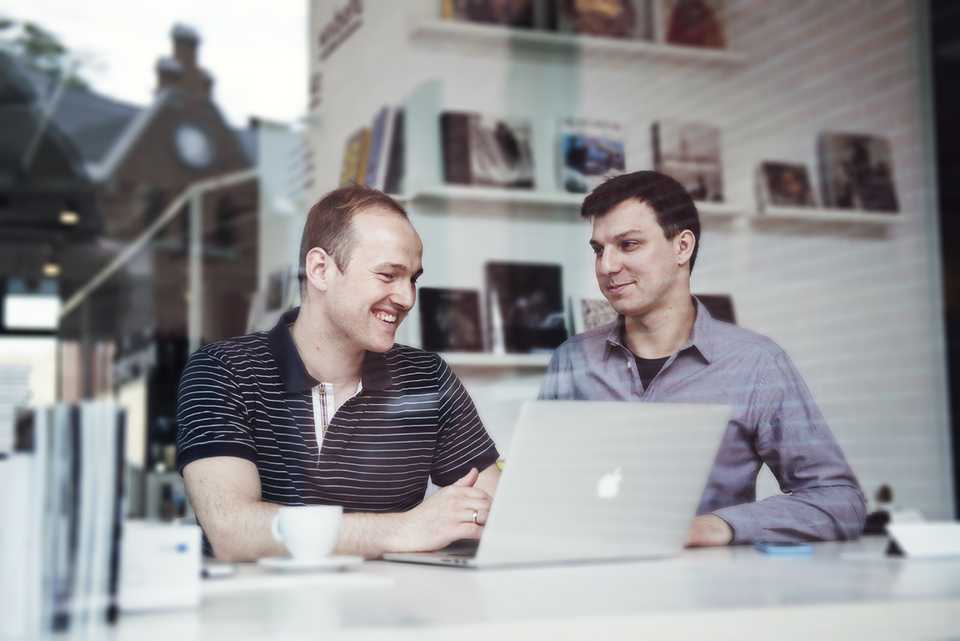 Coming back to the interview it was the most original one I have ever had and it was the quickest recruitment decision I have ever got. Remember that in the first place I am a marketer so I went there with a plan what we shall work on, improve and change. I was surprised yet at the same time double excited that people who have just met me noted potential in me and my ideas.
It was pure agile. Now I know it. 
Blank page
Since I started working at Bright Inventions I have been responsible for both HR and marketing areas, starting from employer branding field, brand management and recruitment. I got a blank page and started writing a bright story on it, adding new scenarios, interesting characters and even plot twists sometimes. I started creating an authentic story in which I have also played one of the main roles. It was a challenge I had been searching for. 
I was gifted by Michał and Daniel with trust, independence and power. I felt they believed in me, in my vision, my plan and at the same time my intuition. I wish everyone could have such a  support in their organisations. 
In fact, all the people in the company were helpful, caring and sympathetic. I was the first non-technical professional who joined the team so without their being so cooperative and kind it would have been quite harsh for me I guess. But it wasn't. It was demanding and at the same time encouraging. I was learning a lot about IT sector, programming, project management and developers in general. I was watching my colleagues, asking questions and becoming more and more certain that I was in a good place. When I joined there were 8 of us. We were not a big company, but for sure bright one.
Bright novel, Chapter 5 
And here I am today together with 70 people on board and five years full of bright memories. I feel truly responsible for all the people that have joined us till today. I am really happy that I have had an opportunity to meet so many unique personalities and for sure I will still meet many more of them. 
What I am grateful for?
For having really great bosses who are specialists at what they do, have huge business and programming knowledge and at the same time are empathetic, inspirational and thoughtful. And since there are two of them is just a double luck. 
For having a great team. I know that I was recruiting them so what else I can say ;), but they are really great. I have friendly, clever and talented colleagues. They know what teamwork and responsibility mean. They can teach you something, make you laugh and they also share food with you, so could there be any better team in the world? 
For having an opportunity to create a bright story and show that you do not have to be a big corporation to do big and great things. I do not feel that we fall behind IT companies that hire hundreds of people. Just the opposite, as I see it we are quite unique. In our case powerful and empowering culture leads to success, not the company size and number of processes.
For having a chance to create great software products. I am not a developer, but you can create software even if you are not one. I can pride ourselves on numerous remarkable applications that help people all over the world. We create systems for international humanitarian organisations, for global food delivery services, for therapists, pregnant women, people after trauma and many more. Each and every makes an impact on people's life. 
For having now also my own small recruitment and marketing team. I work with great positive and skilful girls who are determined to add new colours to our bright story and work on the next chapter together with me.
And for many other things that I would leave to myself. :)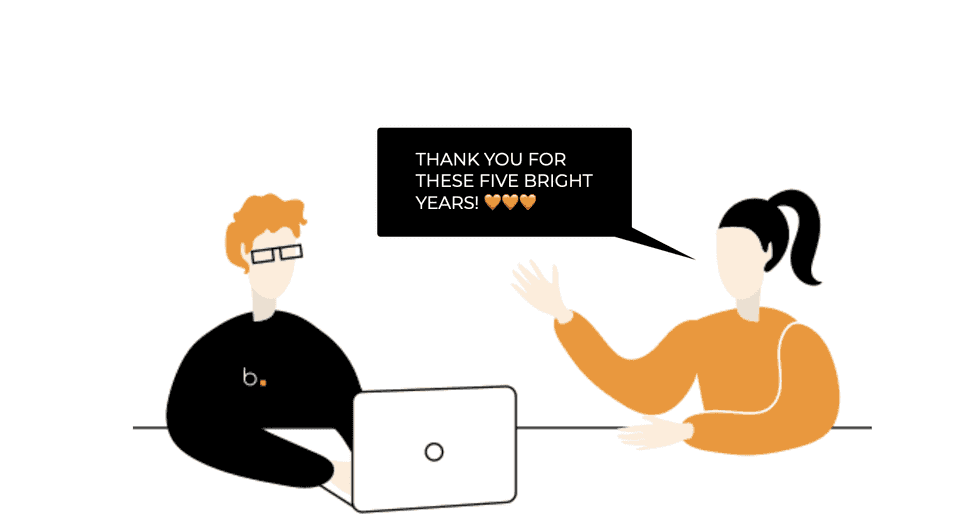 Time to say goodbye 
Not this kind of goodbye.
My role at Bright Inventions has evolved significantly since day 1 to day 1825. My challenges are changing all the time, but I am quite proud that hard work and engagement have brought some fruits. 
Not always everything is perfect. I do not expect that to be. Sometimes there are difficult moments, tough decisions to make and different views to be reconciled. It is my daily life, but in the end it only makes room for improvement and it is always a good lesson. It is fine when I have to agree to disagree about something. These situations probably teach me the most.
A lot of learning is still ahead of me. I anticipate that to be an opportunity. The IT sector is changing dynamically and so people's expectations concerning the place where they want to work. My goal is to create such a work environment where people can thrive both as specialists and humans, where people can honestly talk with each other about both failures and successes, where people support each other the same way I was supported in the beginning of my bright journey.
Previous