Entering the Web3 World with the BrightTreasury App
BrightTreasury app helps you get cryptocurrency to develop your ideas and contribute to communities built around Web3 ideas. To receive the funds you don't have to be a blockchain expert. Yet, at some point in this journey, you should set up your Web3 identity. Find out more about a Web3 account.
What is the BrighTreasury application?
BrightTreasury is a web application that makes it easier to contribute to the community and receive funds for ideas developing Web3. You don't have to be a developer to use this app. The goal is to attract professionals who may not be substrate blockchain developers but still could contribute in a significant way. These could be, for example, graphic designers, marketing specialists, or filmmakers who could get funds to promote Kusama and Polkadot communities' contributions to Web3.
The basic flow to get funds via BrightTreasury consists of these steps: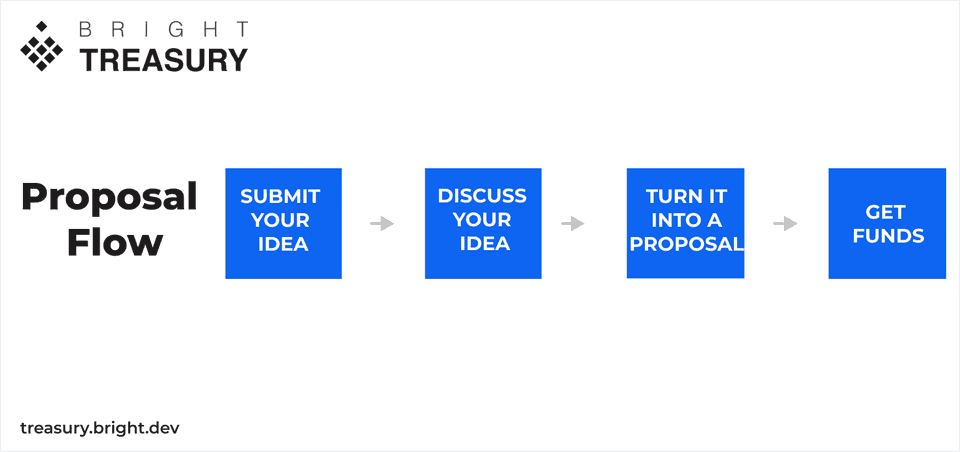 Submit an Idea
Anyone can submit an idea on the BrightTreasury app in a couple of minutes.
Discuss your idea
This step is crucial. Wait for the feedback from the community to find out if your idea has a chance to be approved.
Turn the idea into a proposal
If you feel that your idea has a chance to receive funds, you can turn it into a proposal. Then, the community can vote on your solution.
Get the finals decision about the treasury grant
If your proposal is approved, you will receive the cryptocurrency (Polkadot KSM) to make it happen.
Login options on BrightTreasury
While developing the app we had to have in mind that it is not only for substrate blockchain enthusiasts. We felt that flexibility was the key. Thus, to help you enter this world we enabled two sign-up options:
Traditional sign-up and log in by entering a username, email address, and password – a friendly option for non-blockchain experts.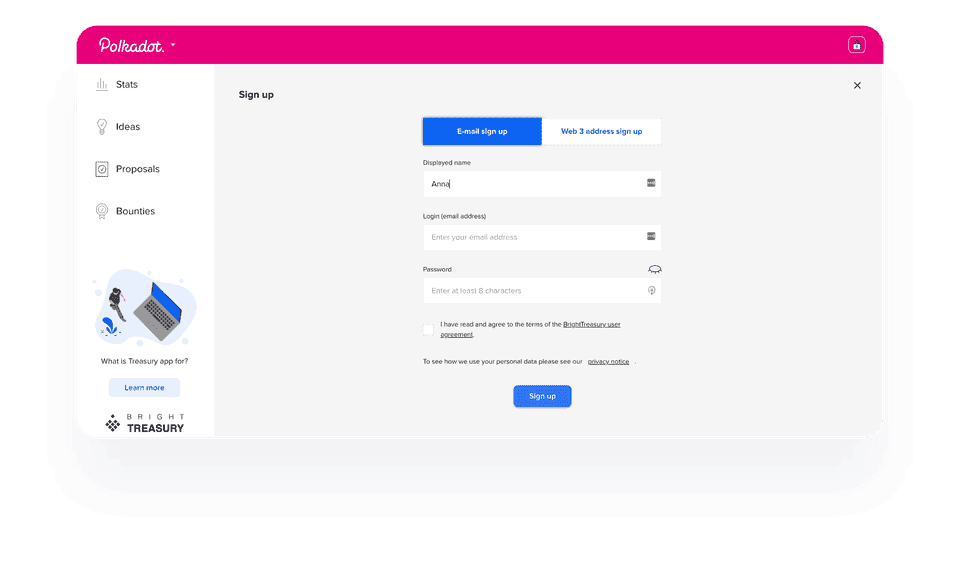 Sign-up and log in through your Web3 address – an option well known by every Web3 enthusiast.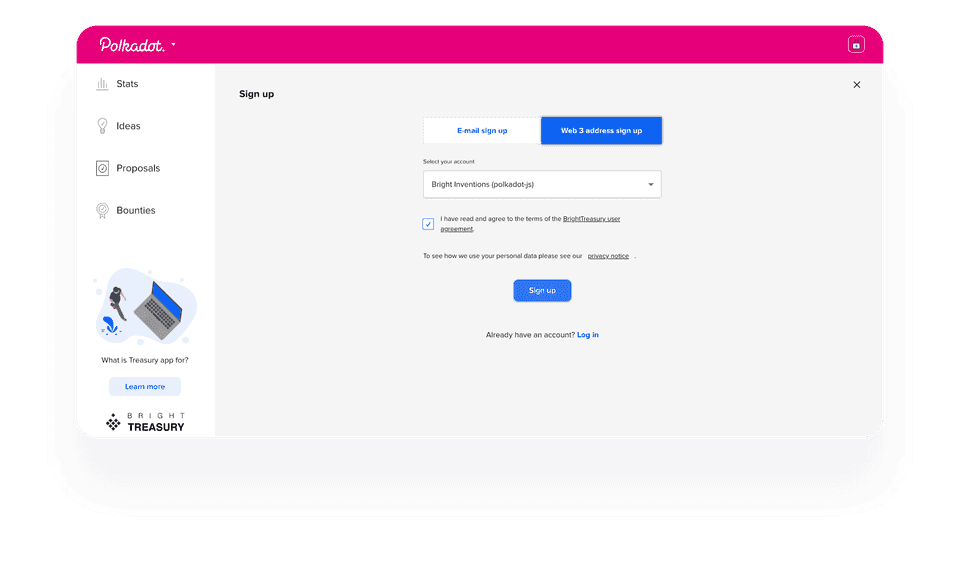 As the first option is quite obvious, let's dive into the latter.
What is a Web3 address?
First of all, let us quickly tell you what actually Web3 is. This is the concept of the internet of the future which will be decentralized and controlled by a community, and not by any tech giant.
Web3 address is a pillar of the whole Web3 idea. Don't think of it as a user account because it does not exist anywhere physically. Web3 address is your identity hidden in a character string. It is your public address in the blockchain community. Thanks to cryptography you own the key that enables you to confirm this address. Only you. Why does it matter?
Because Web3 goal is to take control over your identity. When you verify your address with the key, you sent a request to a blockchain that is owned by a community, and not by any kind of tech giants.
It comes in opposition to popular Web 2.0 practices like logging in via Facebook or Gmail to various services. That is quite an easy way to log in so it is popular. Yet, how many problems might occur because of that? What if Facebook stops supporting this particular logging option or simply stops operating in your country? Then you have a problem.
One could say that these are not realistic threads, but do you want to risk your own identity and pass control over it to others? When you have your own Web3 address, then you own it and no one can deny you access to it.
If you keep reading this article you will find out that logging in with a Web3 account is as simple as logging in via Facebook or Twitter and more.
Web3 address on BrightTreasury
It is a natural choice for us to support this login option since BrightTreasury is an app whose goal is to participate in Web3.
However, the app is supposed to attract people less familiar with the substrate blockchain community so we do not want to force anyone to set up a Web3 account at the very beginning of their interaction with our app.
So if you want to submit an idea at BrightTreasury, you can set up a traditional account to do so. When you feel ready, then you turn your idea into a proposal. To do it, you need to switch to a Web3 account which is easily possible on our app.
At this point, you need to have a Web3 account because it enables you to store crypto. While submitting a proposal you have to put a crypto deposit which will be restored if the proposal will be approved.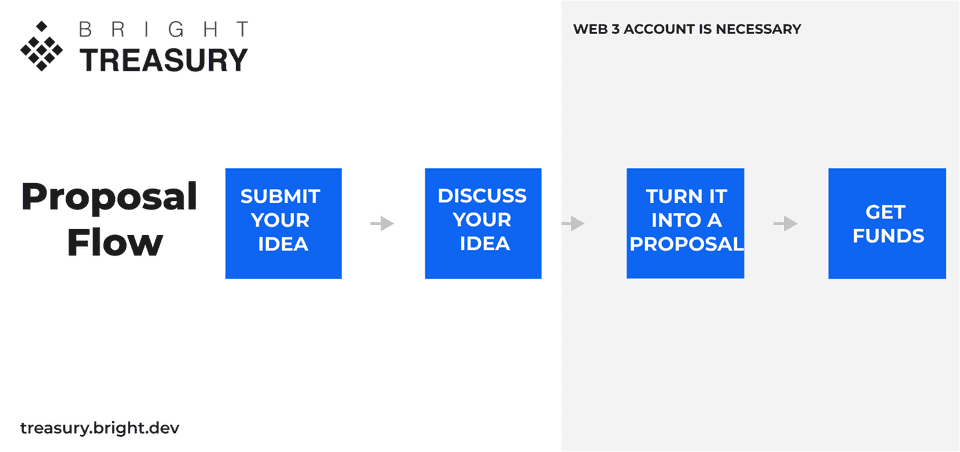 How to Set up a Web3 Account
In order to get funds via BrightTreasury, you have to have your blockchain identity accessible for Polkadot and/or Kusama network. Let me show you how to create a Web3 account with Polkadot extension which is mandatory in this case.
Steps to take to set own Web3 Access Login (Account)
Download the polkadot.js extension for browsers which enables you to create the account and generate the key.
Start to create an account to generate your private key that will verify that you are the owner of that account.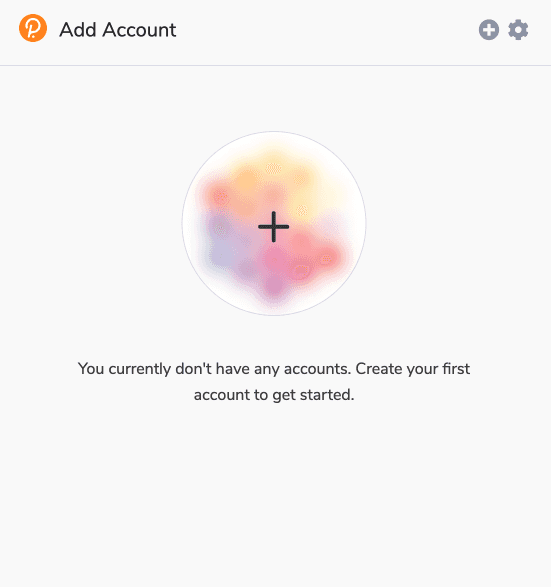 You will receive a characters string which in fact is a unique name of your identity.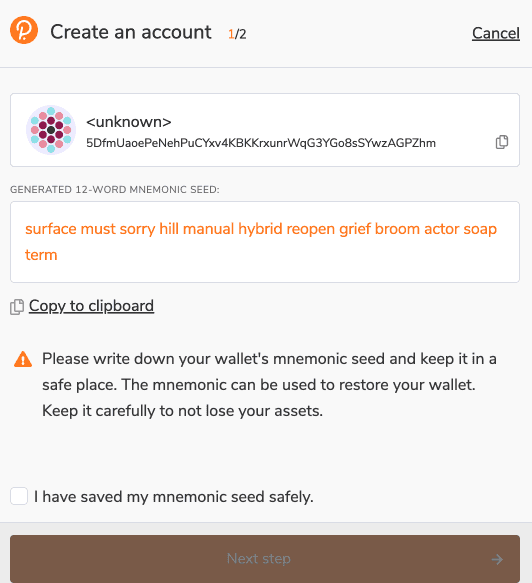 The account details have been displayed only for educational purposes. This account is not used to store cryptocurrency.
Also, there will be a mnemonic seed generated which is mandatory to restore your access to the account so you should copy it and store it somewhere safe.
Now you can enter a name for your account and a password. This password is in fact the password you would use on daily basis to sign up with your account.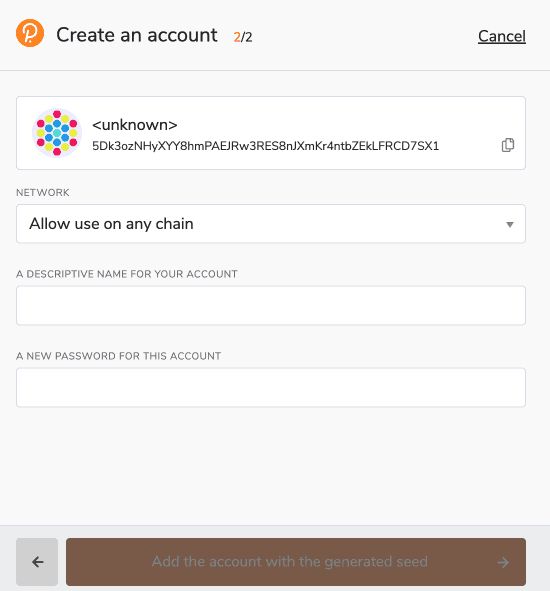 Make sure that you are enabled to use it on Polkadot or Kusama network to be able to work on the BrightTreasury app, but you can also enable it to work on any network.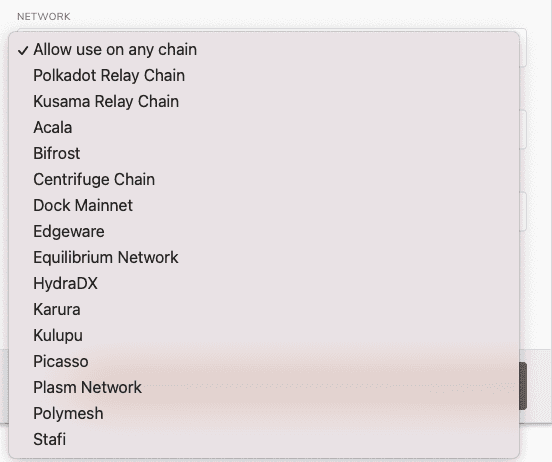 And that is it! Keep this extension in your browser and you can freely explore the Web3 world. You will quickly see that using Web3 is as much convenient and fast as logging in via Facebook. This is only one click that separates you from logging somewhere. Just like with logging via Facebook. Yet, you stay independent. You do not need Facebook to authorize your logging. Blockchain decentralized community does it for you.
Switching between login options on BrightTreasury
Whether you choose to sign up with a Web3 account or in the traditional way, you can always change your logging option. From the very beginning, we wanted users to feel free to choose the most convenient way. So you can easily change your login to Web3 or even do a switch in the opposite direction. How to do it?
Let's assume that you first log in with a Web3 account. In that case, you just need to add your email credentials which basically means entering your username, login, and password. As a result, you will have two options to log in: with a Web3 account or with email.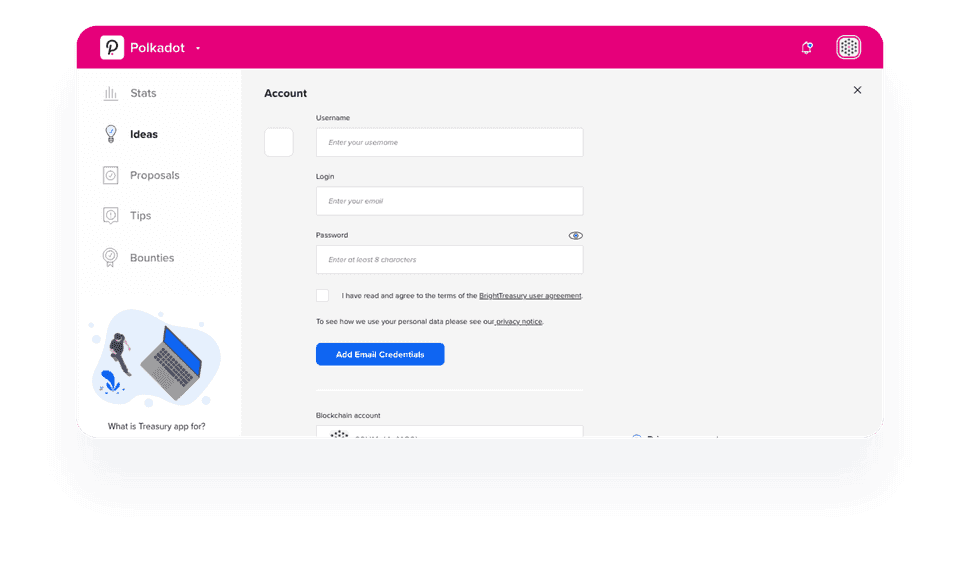 This is an example of the account provided with the Web3 account info as well as email details.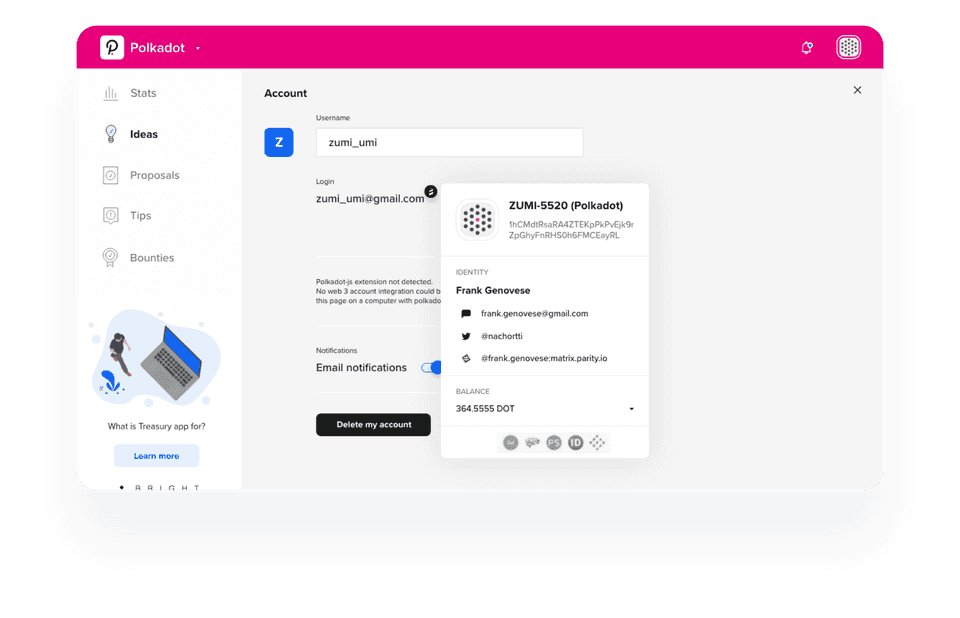 I hope you are ready to visit the Web3 world. Let your first step be our BrightTreasury app. 🙂
Previous