From Hostel Owner to IT Social Media Enthusiast. Meet Agata
For Agata, sport is a way to relax. Jogging, snowboarding, kitesurfing, pole dancing – there is an endless list of activities she enjoys. Her entrepreneurial path brought her to Bright Inventions. As a social media specialist, she shows the true spirit of our bright team. Armed with a notepad and pen she always catches every new technical phrase that she hears in our office and fiercely investigates its meanings. All of that to show you what we do at Bright Inventions. Read about Agata's incredible path that brought her to our team.
I see you at almost every workout we have at Bright Inventions. How important is sport in your life?
Sport plays a huge role in my life. I am engaged in some type of sports activity every day. Unless I exercise it affects my wellbeing and I cannot relax. It could be a kind of addiction of mine. Since I believe that no addiction is healthy (even sports) I sometimes force myself to simply sit on the couch and "do nothing". However, things weren't always like this. I used to be "chubby" and avoided sports activities. 🙂
I graduated from The University School of Physical Education in Krakow. However, I didn't study a typical sports major but instead Tourist Traffic Management. Still, I had to train and got to know every type of sports activity that the school offered. During that time I did a snowboard instructor course. Apart from sports classes, I had classes touching on subjects such as economics, law, management, biology and physiology.
After that I studied clinical psychology at SWPS college in Warsaw. My parents are both doctors, however I was too scared of blood to follow their path. So I figured that studying clinical psychology will be a way to study medicine without any blood involved. 😉 I really enjoyed that study as well.
What do you train?
I wouldn't consider my sports activities as training. In my view, when you train you have a particular goal and you work hard to achieve it. I don't have any specific goals when I exercise. I treat sports as my personal entertainment, a way to relax and a really huge part of my life. For instance, I jog regularly but I do it just for fun, not results.
Apart from jogging, I enjoy kiteboarding in summer and snowboarding during winter. I love pole dancing. I could go to the workouts every day however this activity is very physically demanding. I have to keep in mind that I am not a high-performance athlete.
I have joined mountain biking training with Bartosz Banach (a pro triathlete who conducts exercises sessions for the Bright Inventions team). However, this is definitely an activity that has forced me to leave my comfort zone. Riding off-road and especially mountain biking was scary for me at first. I think that it was a matter of feeling confident on the bike. I love snowboarding, and I don't have problems riding from high and challenging slopes. Fortunately, I am starting to feel confident on my bike, and the real fun has begun.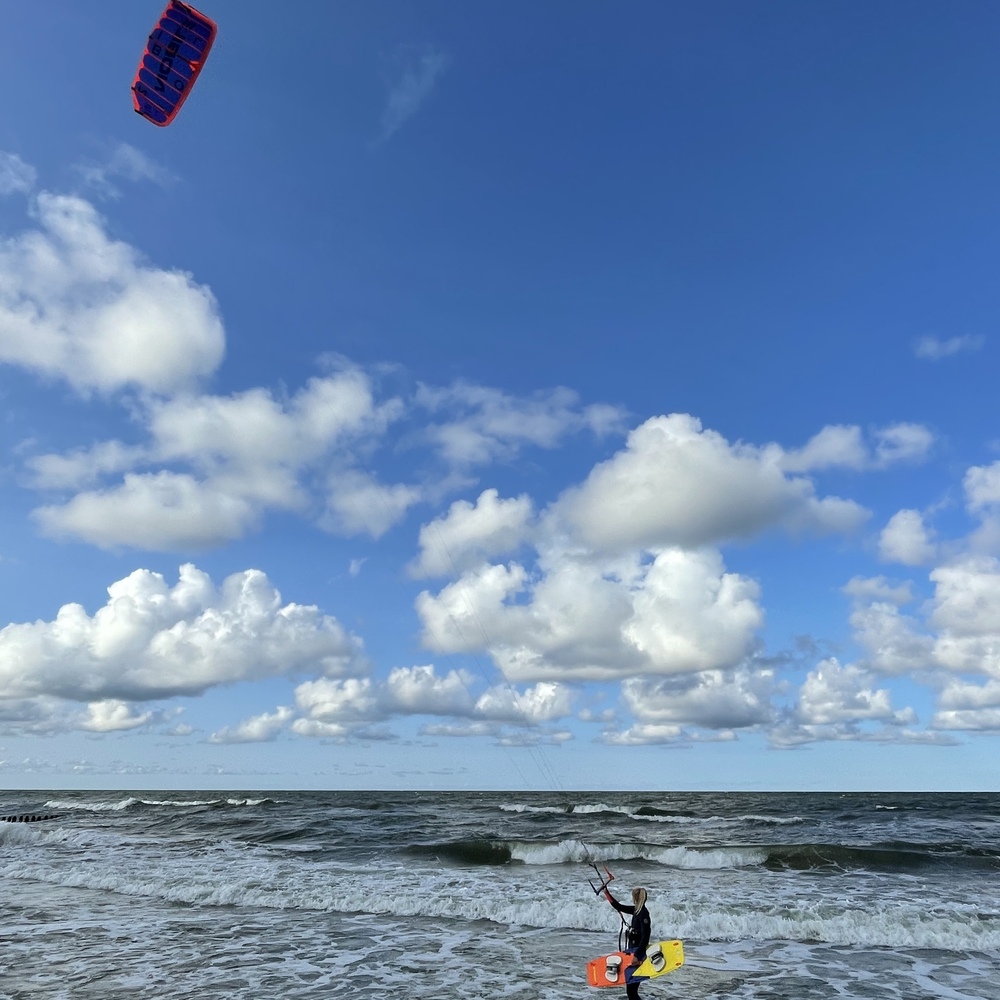 In your twenties you opened 2 hostels in Gdansk then a restaurant. How do you recall your entrepreneurial journey?
Somewhere around my third year of studies, I talked to a fellow student. He told me that the best way to start a profitable business is to run hostels. It was just before the UEFA European Football Championship that was held in 2012 in Poland. The reality wasn't as idyllic as my friend thought.
I opened my first hostel in Gdansk and learned a lot. This was a long road with lots of obstacles on the way. When I was coming to banks for business loans I wasn't reliable to them and was treated as a young woman without any experience or a husband (crazy!). After running my first hostel for 2 years I opened another one.
Soon after that, you entered the restaurant industry. How did this happen?
Some friends convinced me to open a restaurant in 2017. We tried many different food concepts there. Finally, we found the right one. We got funds, did some rebranding and were ready to conquer Gdansk with our brand new pastrami place. And then COVID-19 hit. That's a shame but in the end I think it turned out to be a good outcome for me.
Lockdown forced me to move my restaurant business online. I started an online shop with DIY pastrami sets that I was supposed to sell in my restaurant. It worked out nicely and gave me access to customers within the whole country. I was still trying to manage the restaurant despite constant lockdowns but eventually I gave up on it and focused on my online business. Now I really appreciate free weekends. 😉
You moved from a restaurant to the social media marketing industry. What was the reason?
As I mentioned before COVID-19 I had been working on rebranding for my restaurant and then I first started to be involved in marketing activities. I enjoyed it. The lockdown came and I knew that I had to go online with my business.

I loved that online marketing has such power. I could achieve much more online and build the awareness about my products on a much bigger scale compared to local business. Before that I thought that you don't need marketing, you just need a good product and the word about it will spread itself. Now I see that social media speeds up the spread!
I started to explore the social media management world. I didn't have too much of a budget and still gained satisfying results. I started with influencer marketing and was positively amazed that it worked. I think everyone loves to do something that gives results. I was fierce. I pushed myself to get better and better results. I loved to analyze how my content worked and see people's reactions. Satisfying results just gave me the power to engage more and more in marketing.
Soon after that, I saw a job offer for social media specialists published by Bright Inventions. I figured that I can use my knowledge and experience somewhere else, too. And that is how I am finding myself at a software development company. 🙂
How is it to run social media profiles for software development companies like Bright Inventions? How do you acquire knowledge about the IT world?
When I joined Bright Inventions I had no background in software development. I was attending meetings and I didn't understand every second word I heard. So I noted every mysterious word, went to lunch with developers and asked them about every single thing I didn't understand. I believe that I can learn by talking to people and using Google. That's a perfect combination for me. 😁

How important is social media for Bright Inventions's communication?
Social platforms take a crucial part in our communication strategy. In my view, social media can be a great tool for every industry, especially IT. We can have discussions about whether or not programmers use Facebook, Instagram or maybe LinkedIn but there is no doubt that our social lives are moving to the Internet. Maybe that is a sad trend but it is happening. It is up to us how we are going to be present there.
On social media we show projects that we develop, devices that we use on a daily basis and lots of passion and free-time activities that our team enjoys. We also share insights about the software development process. If somebody wants to join our team, one can easily follow our social media and I guarantee that the message is clear what it means to be a part of our team. I think it also helps to simply check if we might be a good match for someone.

What is ahead of you?
That is a very difficult question. I don't know. I don't see myself anymore in the restaurant industry. But maybe I will change my mind. I am not in the place to plan anything. I follow the rule "let it be" and trust the universe.
Previous